Can you ever Truly be "ready" for a pandemic?
Can you ever truly be "ready" for a pandemic? In my case, the answer was a definitive "no". That's why I'm offering 5 pandemic marketing lessons I've learned so far…
In theory, I, along with others, understood the need for restrictions on movement. There is a need to change normal behaviours. There is also the need to adapt my working conditions while governments try to gain control on a spiralling health crisis. But, personally, I didn't truly appreciate how living through a pandemic fundamentally changes life for a period of time.
Especially if loved ones are lost.
The work and lifestyle changes from the pandemic take its toll. – both mentally and physically – as we all try to maintain some semblance of "business as usual". For businesses, these fundamental changes have far reaching impacts on how they can successfully navigate and transform your marketing efforts through this period.
For example, how many "we will get through this…" emails have you received? I stopped counting. In the midst of hearing news stories of marginal workers putting themselves at risk whilst delivering frivolous parcels and getting news of my own family members passing from the virus, the last thing I was interested in receiving was a sales email from a retailer. A letter stating "we were in this together" and that "…if I act within the next 24hrs, I could receive 20% off of my order!" It certainly didn't feel like we were "in this together"! From one great Canadian retailer, I received over 40 emails during the month of April. Because there is nothing better than shopping your way through a pandemic as your family members get sick, you've been laid off, and are failing miserably at homeschooling your kids.
5 Pandemic Marketing Lessons
With those emails filling up my inbox, it got me thinking about who's gotten marketing during the pandemic (mostly) right, and who has FAILED (like my homeschooling). Here are five pandemic marketing lessons I've learned so far:
LESSON 1: You absolutely can over communicate to your customer.
If you are going to communicate – find and deliver true value. If there is none, don't fake it. Your customers or clients will see through this. Sending multiple messages in a short period of time to get face time with customers simply irritates them and encourages "unsubscribes".
LESSON 2: Authenticity matters.
Are you on brand? Are you on message? This becomes painfully clear in your communication strategy during an emergency. Do your messages resonate with your brand or do they come across as insincere? Are they simply trying to capitalize on a tragic situation? Do you have an authentic message that takes into account the circumstances?
LESSON 3: Great brands help their communities.
Great brands focus on helping those who need help – whether it's
during
or
outside
a crisis. Companies who can show that giving back is a great strategy,
all of the time,
will be the winners in the long term
. At a minimum, those who 'can' – should.
How can your company help the community? There is no better time than the present.
LESSON 4: Your business continuity plans can impact customer experience.
Do you have a continuity plan that will actually work? Depending on your industry, I bet your business continuity plan did not anticipate a pandemic. Thousands of companies have since found out whether or not their plans actually work. Others are realizing they were woefully unprepared because they had no plans.
Understand your critical business infrastructure vs. nice to haves before an emergency.
Things like: your technology platform, customer service processes and key website elements (like online ordering). If you do not have a plan for remote operation, an emergency situation like this might just be the thing that leaves your customers unserviced and drives you out of business.
LESSON 5: Humans are behind every interaction and transaction.
Human beings are emotional, whether kind and loving or crazed and fearful. We've seen this tenfold as the pandemic has given us a glimpse into the best and worst of humanity. From toilet paper fights in grocery stores to random acts of kindness among strangers, to unbelievable grief from loved ones passing. We are seeing the full spectrum of human emotion. So whether it's an employee or the customer – kindness, empathy and gratitude will go a long way.
Think about how to weave the emotional environment into how you talk to and treat your customers AND employees. Emotional intelligence in your marketing can help get your organization through dark times.
As we flatten the curve and start production on a vaccination we can start to reopen the economy. But I think it is safe to say, life as we knew it is gone for the time being; if not forever.
How can you take some of these pandemic marketing lessons and start incorporating them into your marketing strategy – today? How are you going to transform your marketing?
Below we've shared some of the brands we think are getting straight A's in pandemic marketing lessons: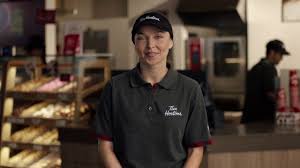 Tim Horton's "Proudly Serving Communities" commercial touched on a couple key elements during the crisis. This spot highlighted: they would stay open to keep serving their communities, played up the 'good neighbour' angle and finally, outlined all the ways you could continue to count on them.
Shortly after the government issued a state of emergency PetSmart was quick to switch gears and offer curbside pickup. Pet supplies were deemed essential items and PetSmart quickly launched a seamless curbside pickup option that protected staff and customers.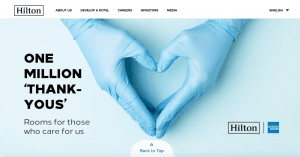 Hilton and American Express have joined forces to honour those frontline healthcare workers responding to Covid-19 to offer one million free hotel rooms. Recognizing that sales would be dramatically impacted this program builds goodwill and provides a gift to those who are being selfless during this time.
What are some of the brands you've been impressed with during the pandemic? Tweet us your answers @andrewperrymktng #pandemicmarketinglessons