Creating Buyer Personas That Work For Everyone
Creating effective buyer personas can sometimes be overwhelming and challenging. For example, you need cross departmental alignment, the right data to identify personas, and to figure out the right number of personas to create.
Creating buyer personas that matter has become even more important in the last year. The pandemic has reinforced that knowing general things about your customers is not enough. You must be able to drill down to specific, on-the-ground attributes. In fact, a recent HBR article confirms this, saying: "marketing messages need to be personally relevant, aligned to an individual's situation and values, as opposed to demographics, such as age and gender. Creating a personal, human connection within any commercial message requires defining consumer segments that describe people according to multiple dimensions that influence their purchasing behavior — from their psychographics to attitudinal characteristics."
But don't despair! If you are working to rethink your buyer personas, follow these simple guidelines.
5 Guidelines to Follow When Creating Buyer Personas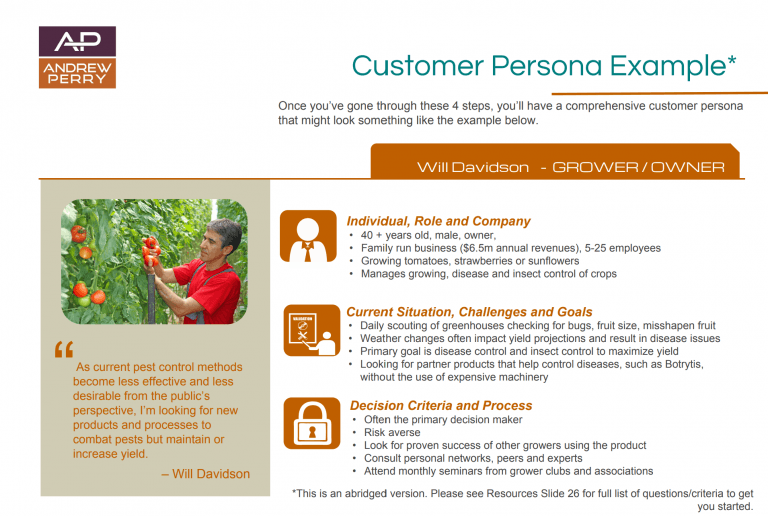 1. Seek Cross Departmental Collaboration
For personas to be effective and realistic, you must work across departments. This creates a holistic view of your customer persona. While marketing can create the skeleton and basic information, be sure to incorporate feedback from different groups, including sales, service/support and manufacturing. This adds the additional details to help all teams to truly understand your persona.
2. Assign a Customer Champion
Creating buyer personas requires a champion, not just to manage the effort of persona creation, but also to incorporate feedback. This role is important during both the creation phase, and during major discussions. For example, this person can be "the Voice of the Customer", reminding team members of the customer your organization is serving/targeting. This is particularly important if (or when) discussions get heated!
Sometimes it's easy to get lost in the details and not see the forest for the trees. Stay grounded and work within reasonable timelines with these next three guidelines.
3. Get it Straight from the Source
Secondary research, supplemented with feedback from your internal teams, is a great starting point. But primary research is invaluable when creating customer personas. In fact, primary research often uncovers new pain points, steps in the buying process, and/or additional circles of influence or players involved in the buying decision.
So how do you gather primary research? We like to listen to customer service calls, go out on sales meetings, and listen to and observe how buyers conduct research, interact and make their decision. Better yet, our preference is to have direct conversations with buyers and ask open ended questions. Any concerns about bias or openness from customers can be managed by involving a reputable third party firm to conduct the interviews on your behalf.

4. Create Clear Timelines
Perfect is the enemy of great. When creating buyer personas, find a balance between leaving yourself enough time to capture 80% of the details and having a firm deadline to put your newly created personas to work!
A detailed persona can take months to create, so knowing what you need, and by when, is crucial. Work in cycles to review and refine to keep the process moving.
In this day and age, there is no need to recreate the wheel. Persona templates that are readily available online through marketing automation and inbound marketing companies. For example, we like the ones from Hubspot or Marketo. These templates help you hit the ground running, providing a tried and true framework for data collection when creating your personas.