Spring has sprung! Is it time to refresh your brand strategy?
One of the reasons I love living in Ontario is because there are 4 distinct seasons. And one of my favourite seasons is Spring. Seeing Spring's early blooms, including daffodils and crocuses, fills me with hope and a sense of renewal. The same seems to be true on the business side. Spring is a time for Spring cleaning, and fresh new looks. So I thought it the perfect time to share some guidance and advice if you're thinking about a brand strategy refresh for your organization.
But first things first, what is brand strategy?
By definition, brand strategy is a long-term plan for the development of a successful brand in order to achieve specific goals. A well-defined and executed brand strategy affects all aspects of a business and is directly connected to consumer needs, emotions, and competitive environments.
Put simply, great brand strategy is about finding the sweet spot between what you do and say, and how your clients feel.
What does brand strategy include?
At Andrew Perry, brand strategy is about defining the promise you make to your customers, the personality you convey in your interactions and the position you take to set yourself apart in your industry. The essence of these three internal elements is then translated into the key messages you want your customers to remember about you, that you share consistently across every interaction regardless of channel or medium.
Step 1: Define your Promise Statement
The first element of a solid brand strategy requires you to put yourself in your customer's shoes. This way you can try to understand what you think they truly want from your company. Brainstorm all of the reasons why you think your customers work with you. In addition, talk to some of your customers. Once you've captured this data, spend time reflecting to see if you can boil it down to one guiding promise statement. While this is definitely easier said than done, ultimately it should be a combination of what fuels your passion and fulfills the needs of your customers.
Step 2: Define Your Personality Traits
What else does brand strategy include? A personality! This fun step lets you treat your brand like a person! Is your brand confident and thoughtful, helpful and funny, innovative and bold? Understanding your brand's personality traits guides the style, tone, look and feel of all interactions and marketing collateral. I'm talking about things like your logo, website, overview deck and more. For example, a helpful and funny personality might lend itself to cheerful colours (yellow, orange) and friendly imagery (full or people). Your end goal is to establish 3 to 4 main personality traits that characterize your brand.
Below is an example of a brand personality for one of our clients.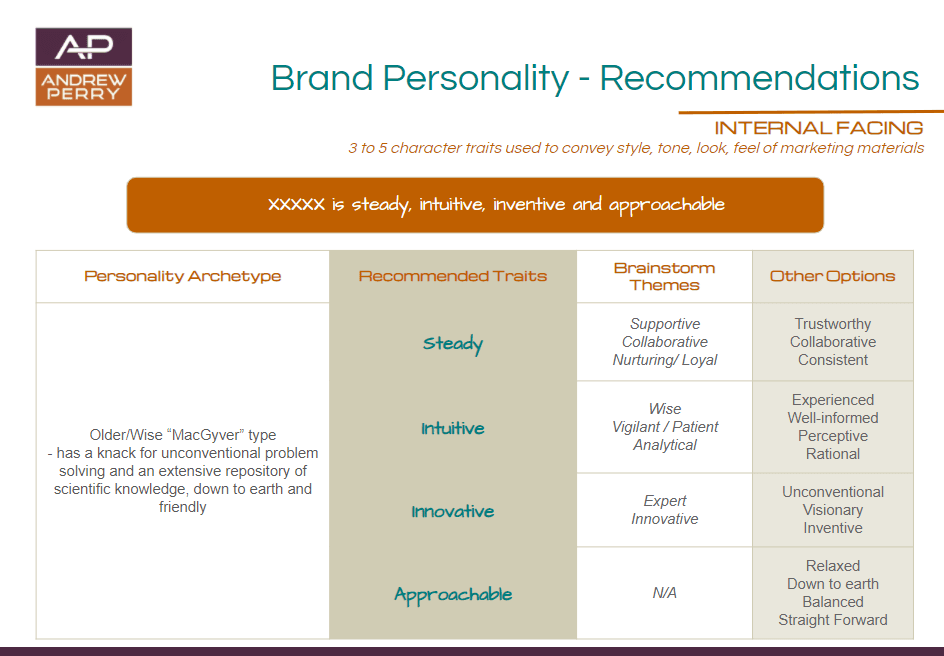 Step 3: Define Your Positioning Statement
Your positioning statement is something that only you can claim. It is what makes you different from your competitors. Most companies follow 1 of 2 formulas:
Figure out your key strengths and main points of differentiation and then look at them critically to narrow it down to one thing you can claim that no one else can.
Then, define your brand category. To do this, think of how you would describe your industry at a cocktail party. For example, Andrew Perry would be marketing strategy and communications. The example below is agricultural commodity risk management. From there, you can work to narrow it down so that it effectively captures the corner of the market you want to own.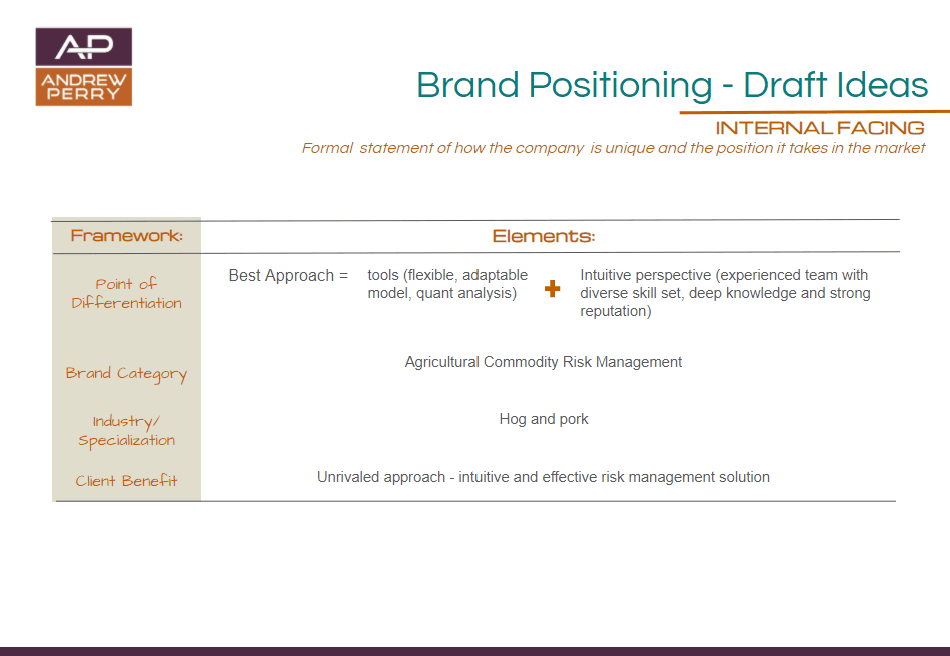 With your promise, personality and positioning statement finished, it's now time to put them to use! There are two ways to do this:
Share internally: first, share your brand strategy with your employees.

Internally, it helps to develop a shared language across the company, and influences company culture.

Promote externally: second, translate them into external facing messages that you can use across your marketing campaigns and collateral. These messages

will guide marketing and sales actions and conversations, and clarify the key benefits of your product or service simply and clearly, enhancing customer experience at every stage of their journey.